Our Boarding Prices and Details
Accommodations:
---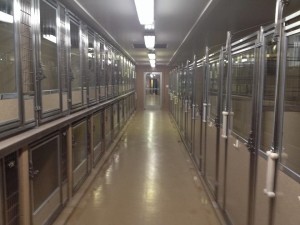 Traditional Runs offer a fun place for your active dogs to stay. They are 4×5 on the inside and 4×12 on the outside. The inside is a private area for them to go when they want to take a nap or just relax and includes a cuddle cot. The outside is where they can see the other dogs that are here and they can make some friends!
We have 14, 6ft x 8ft Luxury Suites with sliding doors leading to a private 6ft x 8ft play yard. These suites are furnished with kuranda beds, rugs, cozy blankets, and a flat screen television showing Animal Planet throughout the day.

Our Destination Suites are tastefully decorated to give the feel of each destination and are complete with a toddler bed and dog bed for your pet's comfort. Wall mounted TV's allow viewing of Animal Planet during the day. Their glass door will provide plenty of natural light. Each suite opens out to its own secure play yard. Take a look at the different themes: Click here
Destination Suite boarding                                                  $55.00
Luxury Suites                                                                          $45.00
Extra pet in suite                                                                   $40.00
Traditional Runs                                                                    $32.00
Traditional run multi pet discount                                    $2 off each dog
Dispensing Medication (per day)                                       $2.00
Injections (per day)                                                               $2.00
Special Diet                                                                             $1.00/Meal
Activities:
---
During your dog's vacation with us, consider signing up for one or all of our vacation activities. Your dog will be glad you did and will be a couch potato for a couple of days when you bring him home!  All of our activities are one on one with a Cobble Hill Resort Attendant.
Nature Walk:  $5 a day for a 15-20 minute walk with a Resort Attendant in our lush and always blooming 1/2 acre natural grass play yard.
Playtime: $5 a day for a 15 minute off-leash romp in our play yard where we offer a variety of toys to play with and one on one interaction with a Resort Attendant.
Pool time:  $5 a day for a 15-20 minute swim in our crystal clear, in-ground salt water pool completely supervised, one on one with a Resort Attendant.  Buoys and balls have proven to entice even the first time swimmers to dive in!
Happy Hour: $2 a day for a delicious ice cream treat in the early afternoon.  Perfect for those hot summer days and eagerly devoured by guests throughout the year.
Daycare with Board: $9 a day and this is a favorite with our guests!  A fun filled day with no time to think about how much fun you are having without them. This is a combination of all the activities and Happy Hour.
Tours
---
Of course we want you to take a tour! Tours are offered Monday through Saturday during normal business hours. We do not offer tours on Sundays for two specific reasons. First, the excitement of dogs going home and arriving can raise the stress level. Second, we love to show off our beautiful facility and want to give you our full attention during a tour. We do not want to rush through a tour because our lobby is full of eager parents waiting to pick up their dearly missed pets. We appreciate your understanding and encourage you to drop by for a tour during our Monday through Saturday office hours.
*During our peak season, Memorial Day through Labor Day, and for all holidays we do require a deposit at the time of booking the reservation. When reserving a Suite we will ask for a $100 deposit and when reserving a traditional run we will ask for a $50 deposit. The deposit is applied to your final bill upon checkout. Deposits are refundable with a 72 hour notice of cancellation during peak season and most holidays, however Thanksgiving and Christmas cancellations must be made by the 10th of the respective month.
*We offer Discounts for Multi-Pet families.
*Priority Club Discounts for our Frequent Boarders.